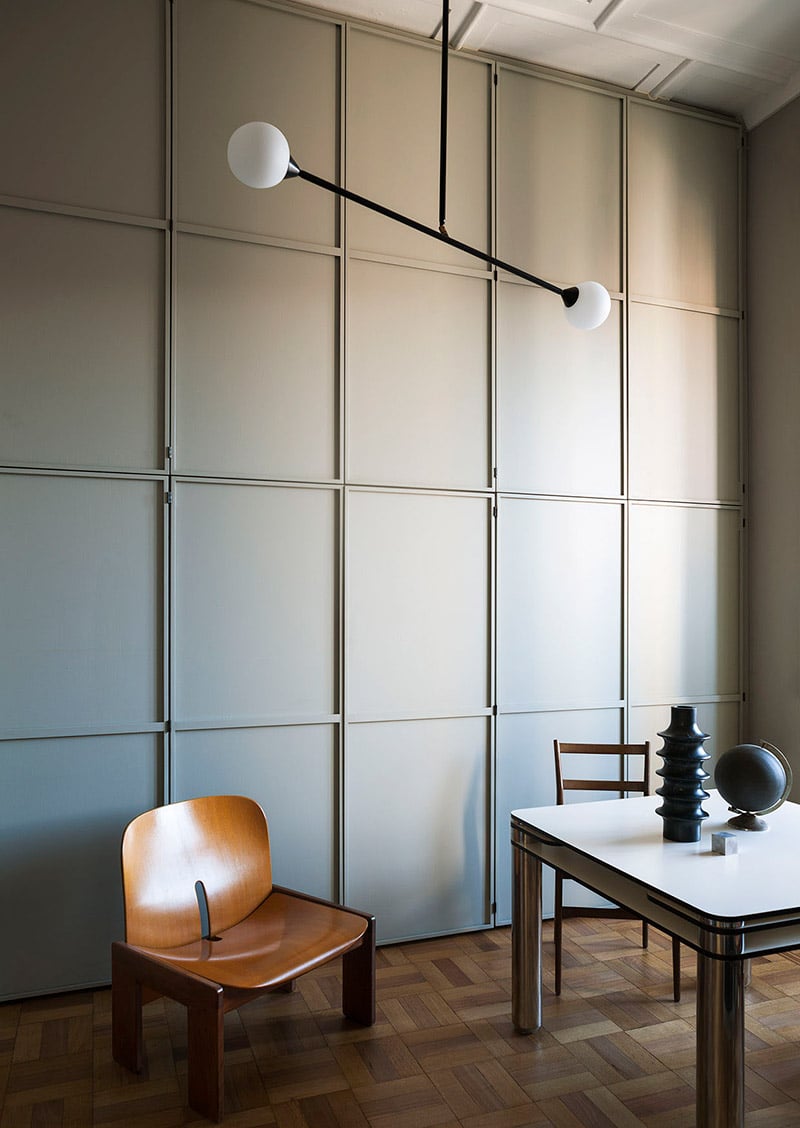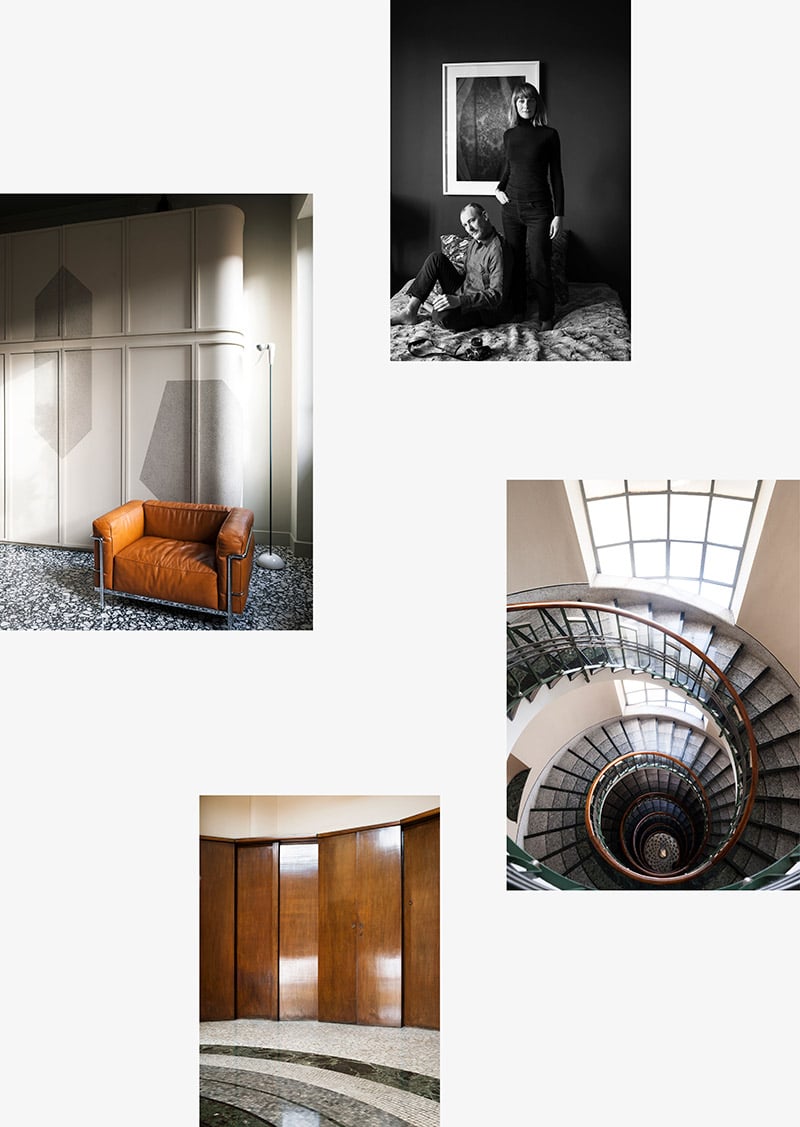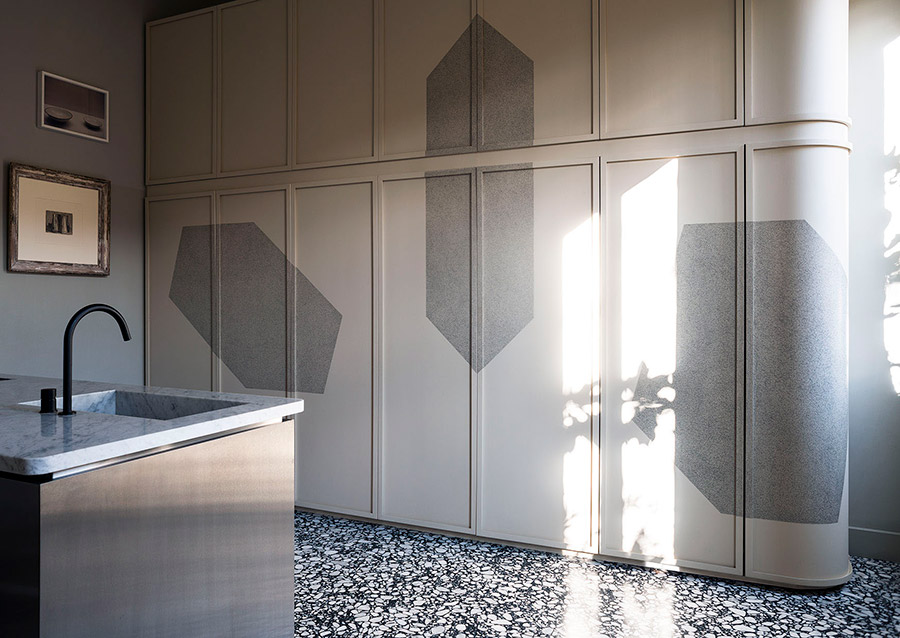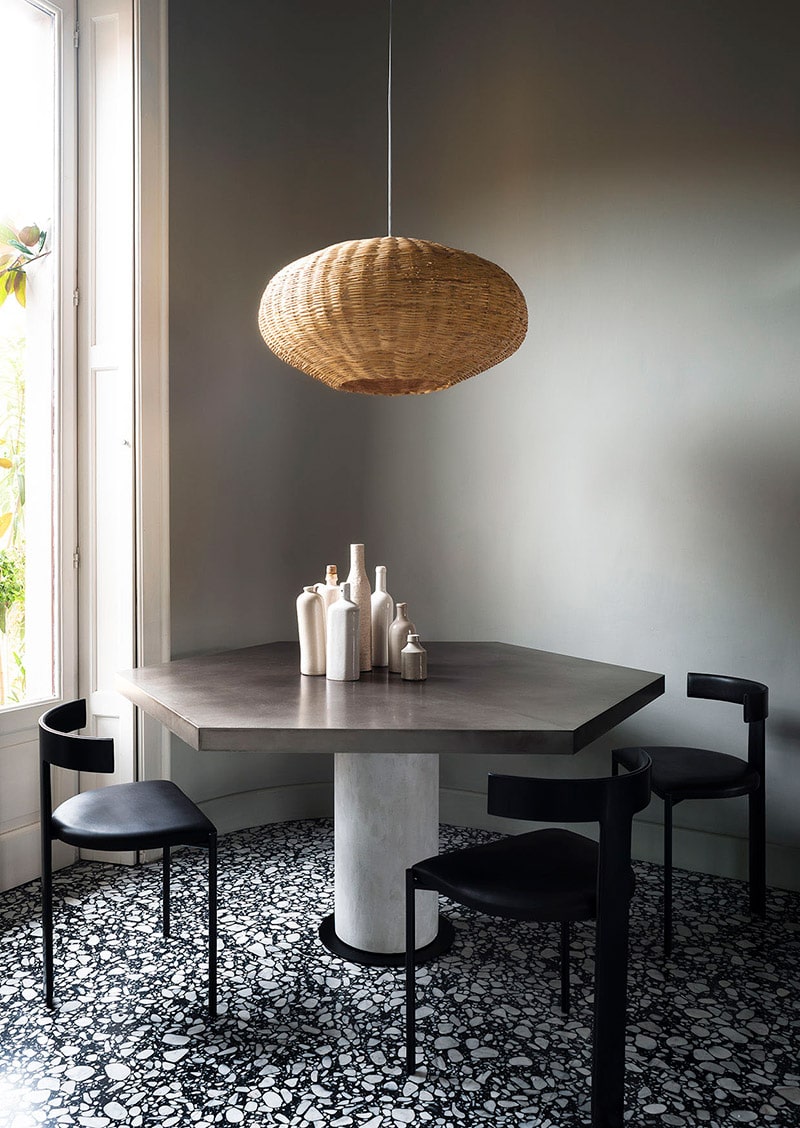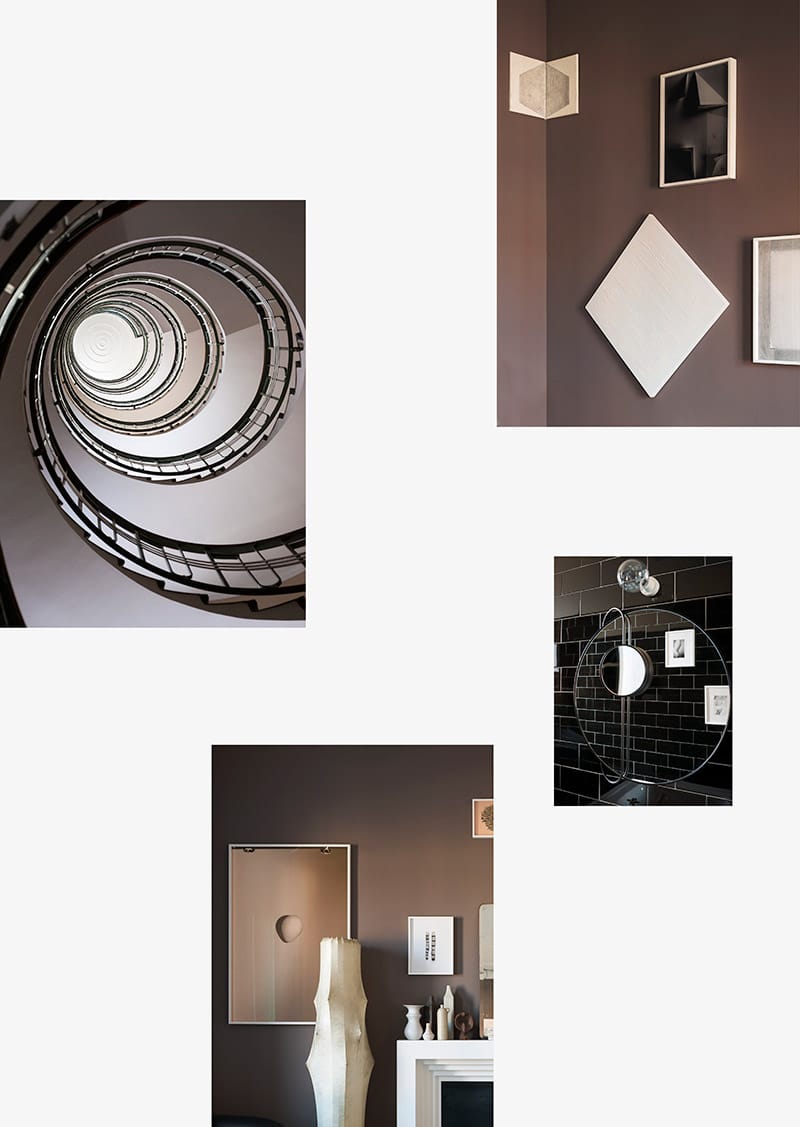 MODERN MEMOIR
— HOME MILAN


Home
Part private base part project, the Milan home of Studiopepe partner Arianna Lelli Mami and photographer Andrea Ferrari is a repository of memories and a composite of their individual and shared aesthetic sensibilities.
"This suited us so well. It is an old 30s building with a modern style. We love how everything is made with meticulous attention to quality, something you don't always find in modern buildings. There is a richness in the building, not in a show-off kind of way, but a deeper quality," says Lelli Mami. Even before you enter the apartment you can see this in the detailing of the common spaces; the curvaceous steel and enamelled metal staircase, patterned mosaic marble floors and the wooden panels hiding the doors to each apartment.
It was a perfect canvas for Lelli Mami who, with partner Chiara Di Pinto, runs Studiopepe, the Milan-based studio with conceptual and narrative approach to everything from interiors and furniture to colour consulting and exhibition design. In her home she wanted to respect the architecture and at the same time create the powerful emotional and aesthetic impact for which their studio is renowned. 
"We love the juxtaposition of old and new and opted for vintage pieces like a Tacchini sofa and Memphis lamp by Tobia Scarpa from the 70s and 80s," she says of choices made with her husband for the apartment. "We deliberately didn't use period furniture as we wanted to avoid a cinematic look or the home looking like a 1930s space."
"THE COLOURS OF THE WALLS ARE NOT JUST DECORATION. WE HAVE CHOSEN COLOURS WITH MATTE SURFACES FOR ARCHITECTURAL QUALITY TO ADD A SPECIFIC FEEL TO EACH ROOM."
Arianna Lelli Mami
The story featuring their transformation of a 1930s apartment is in Ark Journal VOL III.
WORDS KARIN GRÅBÆK HELLEDIE
PHOTOGRAPHY ANDREA FERRARI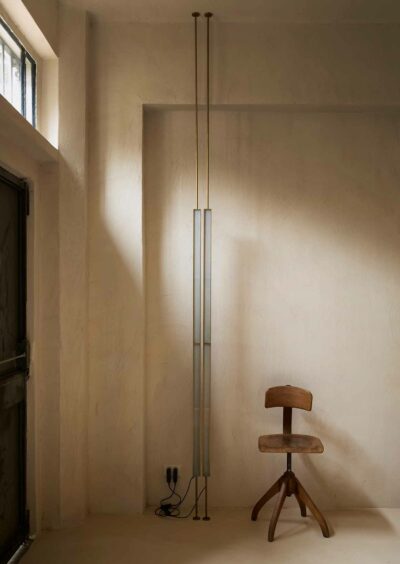 Finding balance through contrast is at the heart of the architectural and design practice of Fanny Bauer Grung and David Lopez Quincoces. Past and present. Simple and rich.
read more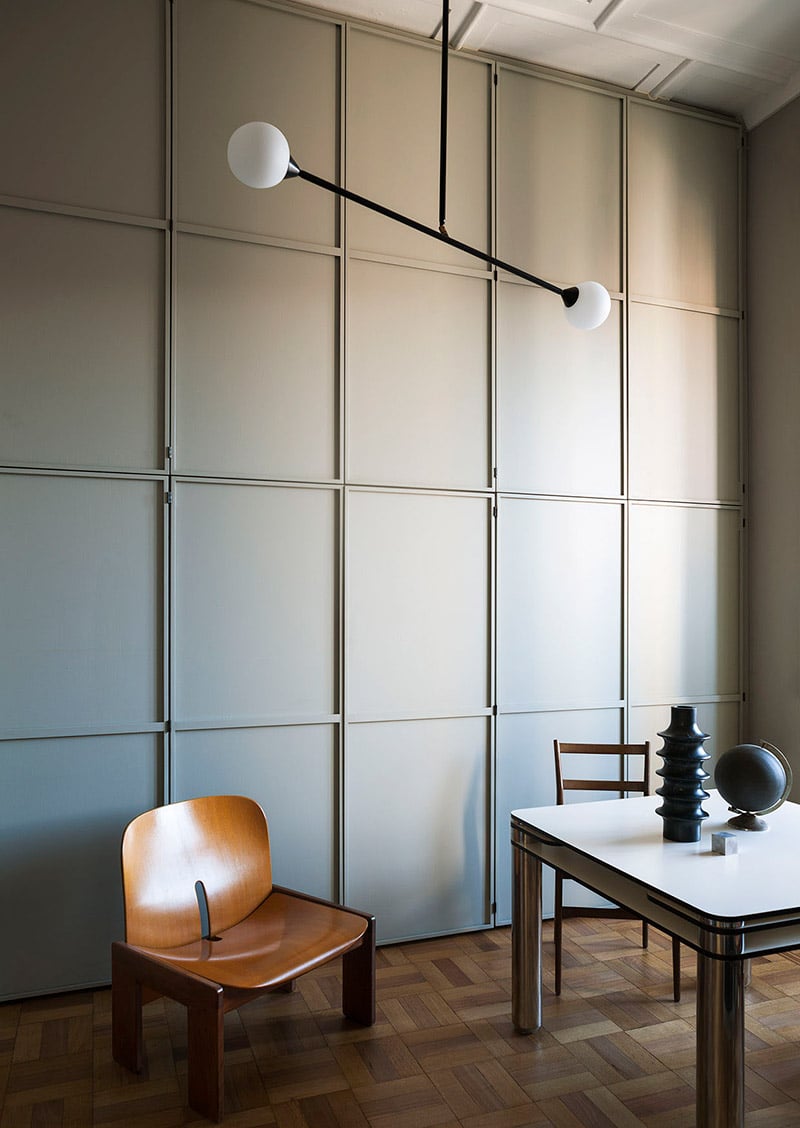 MODERN MEMOIR
— HOME MILAN
home
Part private base part project, the Milan home of Studiopepe partner Arianna Lelli Mami and photographer Andrea Ferrari is a repository of memories and a composite of their individual and shared aesthetic sensibilities.
"This suited us so well. It is an old 30s building with a modern style. We love how everything is made with meticulous attention to quality, something you don't always find in modern buildings. There is a richness in the building, not in a show-off kind of way, but a deeper quality," says Lelli Mami. Even before you enter the apartment you can see this in the detailing of the common spaces; the curvaceous steel and enamelled metal staircase, patterned mosaic marble floors and the wooden panels hiding the doors to each apartment.
It was a perfect canvas for Lelli Mami who, with partner Chiara Di Pinto, runs Studiopepe, the Milan-based studio with conceptual and narrative approach to everything from interiors and furniture to colour consulting and exhibition design. In her home she wanted to respect the architecture and at the same time create the powerful emotional and aesthetic impact for which their studio is renowned. 
"We love the juxtaposition of old and new and opted for vintage pieces like a Tacchini sofa and Memphis lamp by Tobia Scarpa from the 70s and 80s," she says of choices made with her husband for the apartment. "We deliberately didn't use period furniture as we wanted to avoid a cinematic look or the home looking like a 1930s space."
"THE COLOURS OF THE WALLS ARE NOT JUST DECORATION. WE HAVE CHOSEN COLOURS WITH MATTE SURFACES FOR ARCHITECTURAL QUALITY TO ADD A SPECIFIC FEEL TO EACH ROOM."
Arianna Lelli Mami
The story featuring their transformation of a 1930s apartment is in Ark Journal VOL III.
WORDS KARIN GRÅBÆK HELLEDIE
PHOTOGRAPHY ANDREA FERRARI